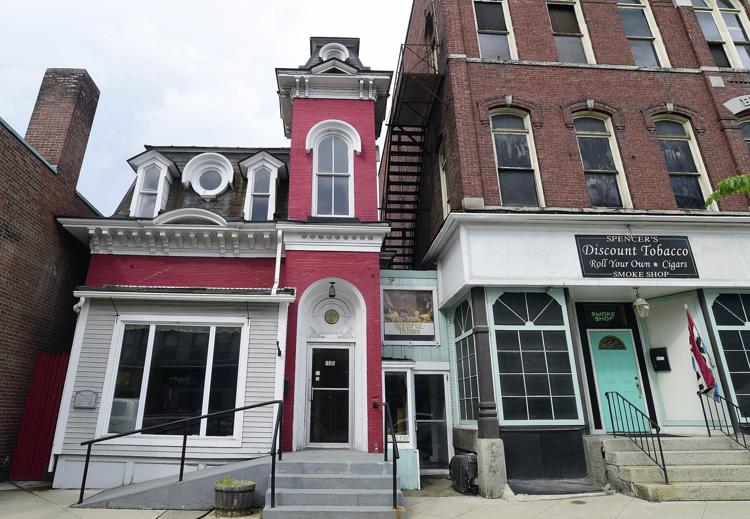 BARRE — During a meeting before their regular Tuesday night meeting, city councilors huddled in the iconic Wheelock building and welcomed thoughts about what to do with the one-time law office and long-time senior center that last housed an antique shop.
Though it wasn't unanimous, many in attendance expressed varying levels of support for Mayor Lucas Herring's proposal to create a teen center in the back half of the now-vacant building, while creating a home for the Barre Partnership and the "welcome center" in the front.
However, even those who support the concept — including some familiar with teen centers — warned it would be a significant lift and that community buy-in was crucial.
Kreig Pinkham, executive director of the Washington County Youth Service Bureau, said fitting up the blank space to create a center where local youth would want to congregate was the easy part. Committing to sustainably staffing what could easily be a $100,000-a-year operation was more daunting.
"If you want a teen center, be prepared to commit to a professional teen center," Pinkham said. "Don't go half in."
Pinkham said hiring a full-time director really isn't optional and arranging for at least one other paid staff member was a necessity.
"There is a chicken-and-egg moment here," he said. "The chicken is in front of you. Are you, as a community, ready to engage with the idea of a teen center?"
Pinkham said the answer must be definitive.
"If you don't have the community on board, all in, eyes wide open about what it takes to really support a teen center that's where it will fail," he said.
The city-owned space, Pinkham said, was suitable and there are opportunities to leverage outside resources that could make a teen center more sustainable. One of them, he said, would be to create a drop-in resource center for youth that would be open when the teen center wasn't and staffed by organizations — his own included — that already serve Barre youth.
Katie O'Day, who lives in Barre and runs a teen center — The Junction — in White River, echoed Pinkham's assessment.
Volunteers were wonderful, but often unreliable, O'Day said, stressing the importance of paid staff to ensure an accessible well-run center. That comes at a cost — $100,000 at The Junction — and while the center is underwritten by a business — Listen — community support can't be taken for granted.
"It's a lot of work, but it's so worth it to the community, whether the community sees that or not, it is," O'Day said.
Others who expressed support for Herring's idea, including former mayor Thomas Lauzon, ranged from enthusiastic about the prospect of pairing a teen center with the Barre Partnership to simply wanting to see a vacant space filled.
"I would love to see something in this building," Amy Galford said, suggesting she could get behind co-locating a teen center with the Barre Partnership.
Councilors haven't made up their minds what to do with the space. Sue Higby, who lost her Ward 1 council seat to John Steinman earlier this year, said they should ask.
"This is a resource that really demands a competitive response," she said, reiterating her long-stated belief the council should formally solicit proposals for the space.
The council was headed in that direction before the March elections, but later shifted gears after two newly elected members — Steinman and Teddy Waszazak — and Councilor Rich Morey toured the property.
Waszazak said he wasn't interested in selling the historic property and Morey and Steinman questioned who would buy it given the cost of upgrading it and conditions the council would place on the sale.
Though renting it is an option, it isn't one some — including Councilor Michael Boutin — could support, putting Herring's once-shelved proposal squarely back on the table.
Herring said he is eager to explore funding possibilities for the teen center, but needs a location first. Councilors held off on making a commitment until after inviting the community to weigh in.
Higby argued a warned meeting in the vacant building was a poor substitute for soliciting proposals and said she was aware of at least one person who was interested in the space.
Lauzon, a local developer, said he understands why.
"This is a great building," he said. "It's hard not to love it."
Lauzon said that didn't make it an attractive investment.
"Looking at it from a for-profit perspective, this would be a hard building to make money with," he said.
Lauzon said he was supportive of Herring's idea, but not opposed to Higby's suggestion.
Hungry for feedback, councilors let residents do most of the talking this week. They plan to discuss the future usage of the Wheelock building when they meet next Tuesday.
david.delcore @timesargus.com