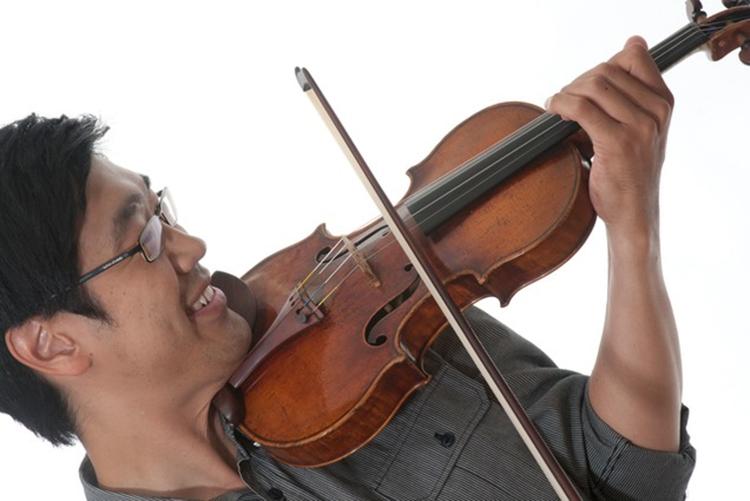 Violinist Soovin Kim has been soloist with the Vermont Symphony Orchestra countless times since he first appeared with the ensemble at Burlington First Night at age 11 or 12 under Efrain Guigui. Since, he's become something of a regular.
"Staring across the podium at (principal cellist) John Dunlop, it's a very memorable image for me," Kim says. "John being John and being wonderful, I always feel connected to him when I'm playing as soloist."
But, this time around, Kim will be conducting the VSO and performing as soloist, leading its annual Made in Vermont statewide tour. Kim will conduct members of the orchestra in classics of Mozart, Haydn and Brahms, and a world premiere by Matthew LaRocca, in Castleton (Sept. 27), Brattleboro (Sept. 28), Randolph (Sept. 29), Derby Line (Sept. 30), Middlebury (Oct. 6) and Greensboro (Oct. 7).
Continuing its collaboration with the Middlebury New Filmmakers Festival, the VSO will introduce a composition by LaRocca that will accompany filmmaker Robin Starbuck's "How We See Water" during the program.
Kim has been a fixture on the Vermont music scene since he was concertmaster of the Vermont Youth Orchestra. After studying at the Cleveland Institute of Music and Philadelphia's Curtis Institute with VSO Music Director Jaime Laredo, he won the 1996 Paganini Competition in Genoa, Italy, propelling him on an international solo career.
Now living in Boston, he is on the faculty of New England Conservatory and founder and co-artistic director — with his wife, pianist Gloria Chien — of Vermont's Lake Champlain Chamber Music Festival.
Conducting gradually came into Kim's life, as he occasionally led orchestras from the solo violin part. At times, he also directed symphonic works from the concertmaster chair. More recently, Kim has been conducting the Burlington Chamber Orchestra on an annual basis.
For this tour, Kim will also perform as soloist in Mozart's Violin Concerto No. 1 in B-flat, K. 207.
"It is actually the most awkwardly written of the five violin concertos (by Mozart)," Kim said by phone. "The passagework for the solo violin is the most un-idiomatic writing that I know of by Mozart. I'm not sure why. Most of his violin writing is really glorious."
But that doesn't detract from the appeal of this brilliant concerto.
"There's instant appeal right from the first notes," Kim said. "There's something that wakes us up when we hear (the first theme)."
At the other end of the spectrum is LaRocca's new work, commissioned by the VSO. The composer, who lives in Burlington, is the VSO's creative projects chair, artistic director of the Champlain Philharmonic, and director of Music-COMP, a youth composition program.
"We picked Matt because there is such a visual aspect," Kim said. "I remember the first time I heard some of his music, that is just what I saw.
"It will be only the second time I'm performing with a click track," he added. "The other time was with the violin in hand, so that will be a new experience trying to match up."
The remainder of the program is traditional, particularly Brahms' Hungarian Dance No. 1, which closes the program. Haydn's Symphony No. 60, "Il Distratto," isn't quite so usual.
"Haydn is so inventive, so everything is different — but this is even more different than most of them," Kim said. "It's very comical with a lot of great jokes. The most shocking one is when the rest of the orchestra stops while the violin section makes their violins out of tune and then proceeds to tune them — while the rest of the orchestra plays on."
And that's not all …
"I've always had an allergy to performers coming off stage saying, 'Wow! That was so fun,' after the slow movement of Schubert's cello quintet," Kim said. "But this program will be a lot of fun."
jim.lowe@timesargus.com / jim.lowe@rutlandherald.com